With extended range, we've got your business covered!
See how the AT&T SynJ extendable range SMB system can keep your office connected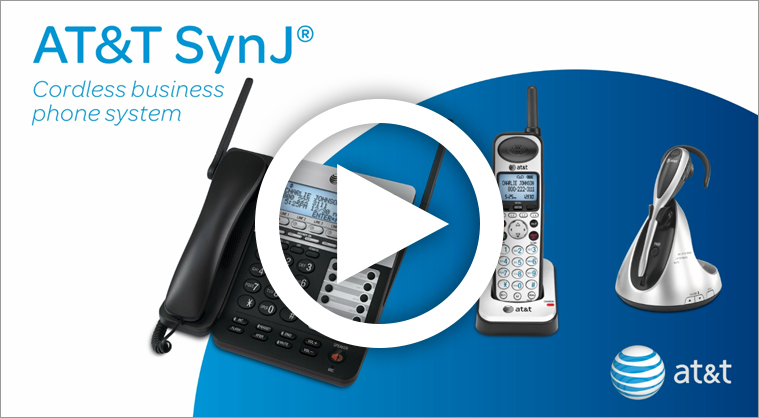 Work wherever your work is!
With AT&T SynJ, your employees can work here or there. It's perfect for warehouse/
distribution centers, car sales and rental lots, nurseries and other businesses where mobility
is key.
Extend your communications
With SynJ, you can add up to 6 AT&T DECT 6.0 repeaters to extend your cordless mobility up
to half a mile.* Go farther–and further–with AT&T DECT 6.0 cordless handsets or an
AT&T TL7800 headset.
The SynJ difference
Increase sales
Respond to all your customers all the time, no matter how far you are from your desk. Extended range means no more missed calls and no more wasted time!
Give yourself more time
Auto attendants on all four lines, line status appearances and built-in voicemail ensure all calls are handled right the first time. The result: more time to focus on your business!
Get off to a quick start
With SynJ, you have support for up to 11 users and 4 analog lines right out of the box. All you need is the RJ11 connection and AC power.
Go easy on yourself
SynJ's user-friendly features mean business as usual without any of the hassles of learning a new system.
Build your own system with 3 simple steps!
Start with the base
system

SB67138 (Includes 1 base deskset and 1 cordless handset)

Add cordless desksets
or cordless handsets

| | |
| --- | --- |
| | |
| | |
| SB67148 | SB67108 |

| | |
| --- | --- |
| | Add a cordless headset and repeaters |

| | |
| --- | --- |
| | |
| | |
| TL7800 (max 1 per system) | SB67128 (max 6 per system) |
*Open range test was performed by Wyle Laboratories, an independent commercial test facility. '"Up to half a mile" cordless mobility range, "Up to 980 feet" repeater range and "up to 500 feet"
cordless headset range refers to the maximum open field range. Actual range may vary depending on intervening obstacles. Maximum operable range distances are based on all-indoor use.
Connect with us
Find out which AT&T business phone solution is right for you.