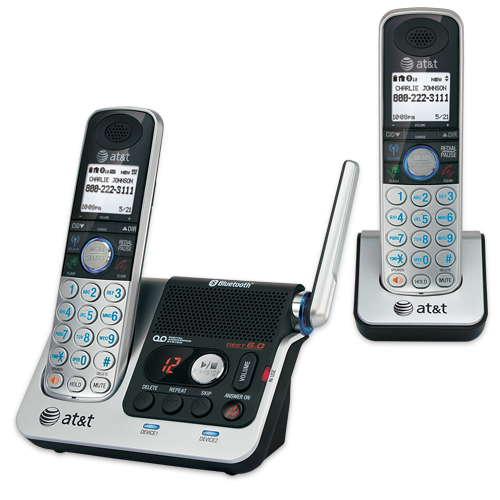 TL92270
2 handset Connect to Cell™ answering system with caller ID/call waiting*
TL92270
To Purchase Single Line phone systems, visit the AT&T Cordless & Corded Phone Store by selecting the button below.
Highlighted Features
Digitally Enhanced Cordless Telecommunications (DECT) 6.0 is a new frequency band that transmits your voice across multiple channels. This technology provides superior quality of voice and sound, high protection against wiretapping and better range than 2.4GHz and 5.8GHz phone systems, while not interfering with wireless routers.
Allows you to speak and listen without holding the handset. This leaves your hands free to do other things and lets more people in on the conversation.
*Use of the Caller ID feature requires a subscription from your telephone service provider.
Equalizer For Customized Audio - Choose from 4 preset profiles
Expandable System (use up to 12 handsets through a single phone jack)
Dual Handset System - Use both handsets with a single phone jack
Voicemail Waiting Indicator (COVM) **
Selectable Ring Tones
Wall Mountable
Scroll through the Caller ID history and use the Display Dial button to quickly call the selected number.
General Features
Provides privacy by allowing you to hear your caller, but prevents the caller from hearing you.
Compatible with TL7600 Cordless Headset
Chain Dialing
On-Hook Dialing
Ringer Volume Control
Energy Star Compliant
High Contrast Backlit LCD and Lighted Keypad
Digitally Enhanced Cordless Telecommunications (DECT) 6.0 is a new frequency band that transmits your voice across multiple channels. This technology provides superior quality of voice and sound, high protection against wiretapping and better range than 2.4GHz and 5.8GHz phone systems, while not interfering with wireless routers.
Use up to 4 Cordless Handsets on a call
Last 20 Number Redial
RoHS Compliant
Flash
English/Spanish Voice Prompts (For US version)
200 Name/Number Phonebook Directory
Keeps a caller on the line while you do other things.
Intercom and Call Transfer Between Base, Handsets and Desksets
AC powered
Handset Volume Control
Caller ID
Voicemail Waiting Indicator (COVM) **
Scroll through the Caller ID history and use the Display Dial button to quickly call the selected number.
Caller ID/Call Waiting Capatibility*
Stores name, number, time and date of up to 50 incoming calls, whether or not the phone is answered. Numbers stored in the Caller ID history can be dialed directly from the memory.
Missed Call Indicator
Answering Systems
Up to 14 Minutes of Digital Recording Time***
Remote Access
Call Screening/Intercept
Message Retrieval from Handset
Memo Recording
Message Time/Day Stamp
Package Contains
Wall Mounting Adapter
NiMH Battery(s)
Power Adapter(s)
Base
2 Cordless Handset(s)
1 Charger(s)
Telephone Line Cord
1 AC Adapter(s)
2 Battery Pack(s)
User's Manual
Quick Start Guide
BLUETOOTH Technology
Swap Between CELLULAR and HOME Line Calls
Pair up to 4 BLUETOOTH® cell phones with the base
Simultaneously connect up to 2 BLUETOOTH® cell phones and manage calls from either device. Or connect one cell phone and one BLUETOOTH® headset for use with landline calls.
Make and receive calls on cell phone plans while utilizing the ease and comfort of a home phone system
Download up to 6,000 cellular phonebook entries to the cordless handset
Distinctive Ringer Tones for HOME Line and CELLULAR Line
Conference between HOME and CELLULAR lines