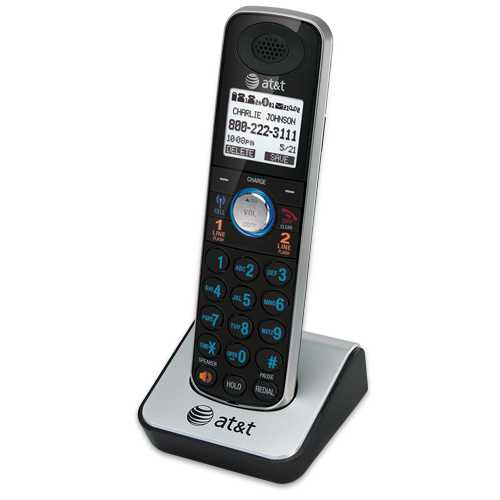 TL86009
Accessory Handset Only Requires TL86109 Base to Operate
TL86009
Highlighted Features
Digitally Enhanced Cordless Telecommunications (DECT) 6.0 is a new frequency band that transmits your voice across multiple channels. This technology provides superior quality of voice and sound, high protection against wiretapping and better range than 2.4GHz and 5.8GHz phone systems, while not interfering with wireless routers.
Equalizer For Customized Audio - Choose from 4 preset profiles
Voicemail Waiting Indicator (COVM) **
Scroll through the Caller ID history and use the Display Dial button to quickly call the selected number.
General Features
Ringer Volume Control
Energy Star Compliant
Digitally Enhanced Cordless Telecommunications (DECT) 6.0 is a new frequency band that transmits your voice across multiple channels. This technology provides superior quality of voice and sound, high protection against wiretapping and better range than 2.4GHz and 5.8GHz phone systems, while not interfering with wireless routers.
Last 20 Number Redial
RoHS Compliant
Hearing Aid Compatible
Caller ID
Voicemail Waiting Indicator (COVM) **
Scroll through the Caller ID history and use the Display Dial button to quickly call the selected number.
Stores name, number, time and date of up to 50 incoming calls, whether or not the phone is answered. Numbers stored in the Caller ID history can be dialed directly from the memory.
Missed Call Indicator
Package Contains
1 Cordless Handset(s)
1 Charger(s)
1 AC Adapter(s)
1 Battery Pack(s)
User's Manual
Quick Start Guide