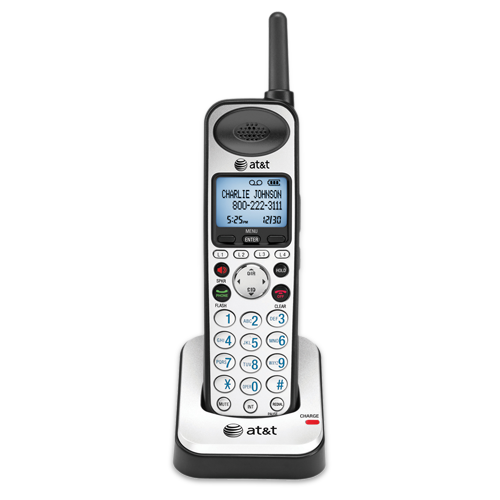 SynJ® 4-line accessory cordless handset
Component of SynJ cordless business phone system. Supports 4 lines and up to 11 users.
SB67108
To Purchase SynJ products and business bundles, visit the AT&T Cordless & Corded Phone Store by selecting the button below.
Highlighted Features
Compatible with as few as 1, and as many as 4, telephone lines.
Allows you to speak and listen without holding the handset. This leaves your hands free to do other things and lets more people in on the conversation.
Expansion Handset Only
DECT 6.0
Push-To-Talk for Instant Communication between Handsets or Base and Handsets
Extendable Range
DECT 6.0 Zero Blind Spot Digital Technology; can have up to 10 accessory handsets active at the same time (number of active outside calls limited by number of outside phones lines)
Scroll through the Caller ID history and use the Display Dial button to quickly call the selected number.
General Features
Provides privacy by allowing you to hear your caller, but prevents the caller from hearing you.
Chain Dialing
Blue Lighted Keypad on Handsets
Last 10 Number Redial
10 Speed Dial and 10 Intercom Number Locations
Handset, Speakerphone and Headset Volume Control
Large Blue Lighted Display
Call Transfer
100 Name and Number Directory
Ringer Volume Control
Keeps a caller on the line while you do other things.
Selectable Ringer Tones
Lines 1 Through 4 Appear on Handset
Low Battery Indicator
Allows you to have a 3-way conversation between you and 2 other parties.
Headset Compatible (2.5 mm jack)
Handset Volume Control
Caller ID
Scroll through the Caller ID history and use the Display Dial button to quickly call the selected number.
50 Name/Number Caller ID History
Caller ID/Call Waiting Capatibility*
Package Contains
1 Cordless Handset(s)
1 Charger(s)
1 AC Adapter(s)
1 Battery Pack(s)
1 Belt Clip(s)
User's Manual
Quick Start Guide