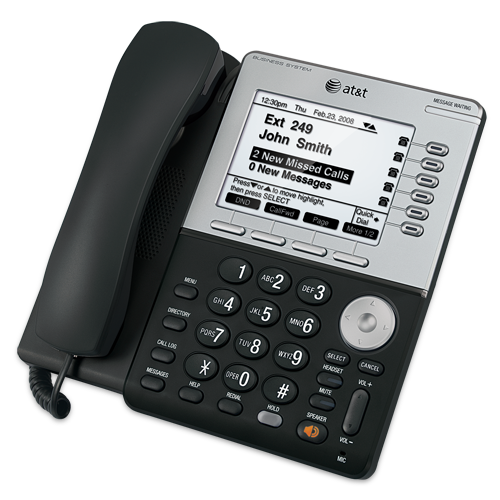 Synapse® feature deskset with Power over Ethernet (PoE)
Component of Synapse business phone system. Customizable to support up to 100 users.
SB67031
The SMB SB67031 provides up to 100 extensions with easy installation and management. This system provides a large backlit display with context sensitive help text to guide you through all the feature operations. "Soft keys" present different options for handling each call depending on its status. For example, a call on hold will present different options than an active call. Each extension can store and display extensive directories and call logs. Each deskset has a built-in DECT 6.0 base station so you office roamers can add an accessory cordless handset or headset for wide-ranging mobility.
To Purchase Please Contact an SMB Partner in Your Area.
Interested in Selling SMB Products?
Highlighted Features
Supports Cordless and Corded Headsets
1 - 16 Line Operation
Expandable up to 100 Extensions
Up to 5 Calls Simultaneously
Ring All
Fully Integrated Digital Answering System
DECT 6.0 Base Supports a Cordless Twin Extension
Context-Sensitive Help Text
Supports primary rate interface trunking, allowing the use of higher trunking ratios and Direct Inward Dialing (DID) numbers. DID allows outside callers to reach individual extensions directly, without an automated attendant or the need to enter an extension number.
Speakerphone
PoE (Power over Ethernet - Only Available on the SB67031
RFC 3261 Compliant
Supports up to 16 SIP Sessions (Calls) and 4 Separate Accounts
1 LAN and 1 AuxNet Connection
G.711 and G.729 CODEC Support
Context-Sensitive Feature Softkeys
Web Based Customization and Administration
Rack-Mountable
Do Not Disturb
General Features
Provides privacy by allowing you to hear your caller, but prevents the caller from hearing you.
On-Hook Dialing
Table/Wall Mountable
Extra Large Buttons
Lighted Display
Call Transfer
100 Name and Number Directory
Last Number Redial
Receiver/Speakerphone Volume Control
Ringer Volume Control
Keeps a caller on the line while you do other things.
Upgradeable Software
Zone Paging
3-Party Conferencing (for multi-line systems)
AC powered
Wireless-Network Friendly
Call Screening
Handset Volume Control
Expandable up to 100 Extensions
Do Not Disturb
Answering Systems
Fully Integrated Digital Answering System